Comprehensive, World Class Health Care
As one of Missouri's leading health insurance coverage providers, our goal isn't just to meet your needs today: we think health forward. We design affordable plans to help you take better care of yourself, your family, your children and your business today and tomorrow.
Local Decisions, Nationwide Network
Cox HealthPlans is the only locally based health insurance company in the Ozarks. We are an affiliate of CoxHealth, a locally trusted and nationally renowned resource for comprehensive health services, extraordinary facilities and a remarkably high quality of care. We provide insurance solutions for thousands of members across Missouri, and throughout the nation. Locally owned and managed in Springfield, Missouri, we have a staff of experts who can help you with any facet of your insurance plan. Their dedication and knowledge base provide you with the highest quality customer service, accurate and timely claims payment, expert medical management you've come to expect from a leader in the health care industry.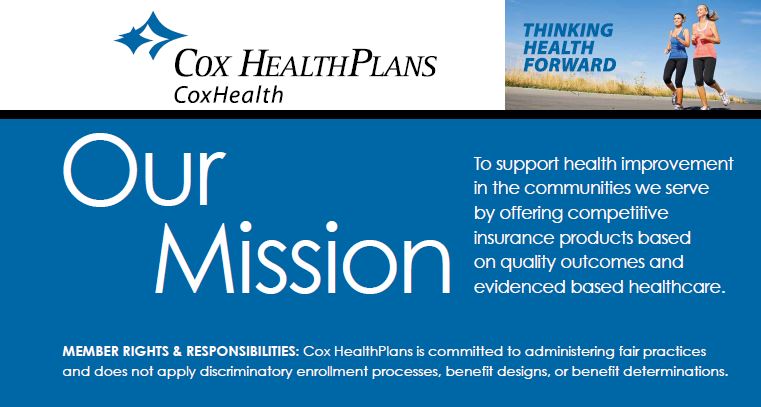 Our Board of Directors
Cox HealthPlans has an independent Board of Directors comprised of business leaders throughout southwest Missouri.
Community Outreach
Located in the heart of the Ozarks, Cox HealthPlans is actively involved in the community. We are always looking for opportunities to give back to those in need, while partnering with organizations who share our commitment of serving those close to home. You can stay up-to-date with our community outreach projects by going to our News/Blog page.