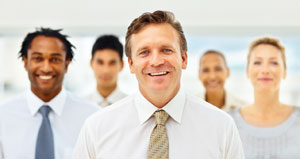 Group Health Insurance Plans For Your Employees
Providing health insurance for your employees is a great way to help them stay healthy. We offer affordable and flexible group plans that give your employees nationwide coverage, along with personal, local service. Depending on how many employees you have, we can help you find the right plan to fit your business.
Plans for 2-50 employees
Bronze Plans
A bronze plan is the most affordable, but does have a higher deductible. A bronze plan might be the right fit for those who don't plan on using many medical services.
Silver Plans
Our silver group plans offer a good balance between affordability and comprehensive coverage.
Gold Plans
Our gold group plans feature lower deductibles and better out-of-pocket cost sharing.
Plans for 50+ employees
PPO and HDHP Plans
PPO plans offer the convenience of copays for office visits, urgent care and emergency room services. HDHP plans meet the federal guidelines for Health Savings Accounts (HSA). In many cases, HSAs offer members tax savings, while allowing them to save for medical expenses. Preventative services without copay or deductible charges are covered under both PPO and HDHP plans.
Exclusive Provider Organization Plans (EPO) and HDHP Plans
EPO plans offer comprehensive health care inside the preferred CoxHealth network.
Plans for 15-99 employees
Level Solutions Plans
Level Solutions plans are simply Self-Funded plans that offer the ability to budget your monthly premium payments. Unpredictability is removed by paying a set monthly amount to fund your group health plan.
Plans for 100+ employees
Self-Funded Health Plans
Offers an alternative to traditional health insurance that may lower your group's health care costs. This unique package of services and protection, including our Risk Management expertise, allows you to gain control over those expenses by helping you establish and fund your own health benefit plan.
Your Health Insurance Partner
To help you manage your group health insurance plan, you can count on us to always provide superior customer service. We employ more than 85 staff members with special expertise in Medical Management, Claims Processing, Member Services, Finance, Underwriting, Information Technology, Enrollment and Marketing. Their dedication and knowledge base provides you with the highest quality customer service, accurate and timely claims payment and expert medical management you've come to expect from a leader in the health care industry.
Medical Management
Help your employees take care of their health with our Medical Management program. From chronic conditions to transition of care, our team members can help your employees control out-of-pocket expenses.
Healthy Living Initiatives
Add value to your group plan with our Healthy Living Initiative Services. From wellness programs to dental, life and vision insurance, you have more options to make your group plan even better for your employees.
Prescription Information
Keep your prescription cost contained with help from our experts. We work with you to find the best, most affordable prescription options. View our entire list of prescription information on our Employee Prescription page.
Coverage Map and First Health
If you or one of your employees gets sick while traveling, we have you covered. Our national connections with First Health Network ensures you and your employees can always receive superior care, wherever you go.