Dark Chocolate Lover's Recipes
February 11, 2016, 3:28 pm
Dark Chocolate Lover's Recipes
Antioxidants destroy free-radicals, which are destructive molecules found to be present in many ailments, including heart disease. Dark chocolate, not milk or white chocolate, contains these antioxidants your body needs to fight off free-radicals. This is good news for chocolate lovers! Just remember, this does not mean you're allowed to go on a dark chocolate binge every time you see a pile of truffles. You may want to remember your sweetheart with a heart healthy treat using the recipes below.
Whole-Wheat Dark Chocolate Zucchini Brownies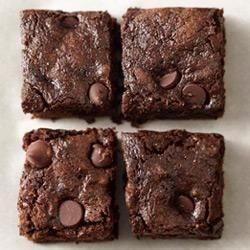 Ingredients:
1 cup white whole-wheat flour
1/3 cup Baking Cocoa
1 1/4 teaspoons baking soda
1/2 teaspoon coarse salt
1 cup Dark Chocolate Morsels, divided
1/4 cup vegetable oil
1/2 cup packed light brown sugar
1/2 cup granulated sugar
2 large egg whites
1 teaspoon vanilla extract
1 1/2 cups grated zucchini
Directions:
Preheat oven to 350 degrees F. Line a 9-inch-square baking pan with foil.
Combine flour, cocoa, baking soda and salt in medium bowl.
Melt 3/4 cup morsels in large, microwave-safe bowl on HIGH (100%) power for 1 minute; stir until smooth. Cool slightly. Stir in oil, brown sugar, granulated sugar, egg whites and vanilla extract. Stir in flour mixture; fold in zucchini. Spread into prepared pan. Sprinkle remaining 1/4 cup morsels over top.
Bake for 30 minutes or until wooden pick inserted in center comes out slightly sticky. Cool completely in pan on wire rack. Lift brownies from pan; cut into 16 squares. Store in airtight container for up to 5 days.
Dark Chocolate Cherry Fudge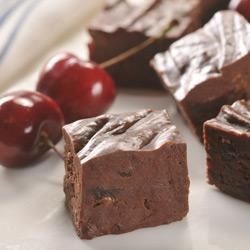 Ingredients:
1 1/2 cups granulated sugar
2/3 cup Evaporated Milk
2 tablespoons butter or margarine
1/4 teaspoon salt
2 cups miniature marshmallows
1 2/3 cups Dark Chocolate Morsels
3/4 cup dried cherries, coarsely chopped
1 teaspoon vanilla extract
Directions:
Combine sugar, evaporated milk, butter and salt in medium, heavy-duty saucepan. Bring to a full rolling boil over medium heat, stirring constantly. Boil, stirring constantly, for 4 to 5 minutes. Remove from heat.
Stir in marshmallows, morsels, dried cherries and vanilla extract. Stir vigorously for 1 minute or until marshmallows are melted. Pour into prepared baking pan. Refrigerate for 2 hours or until firm. Lift from pan; remove foil. Cut into 48 pieces.
Dark Chocolate Popcorn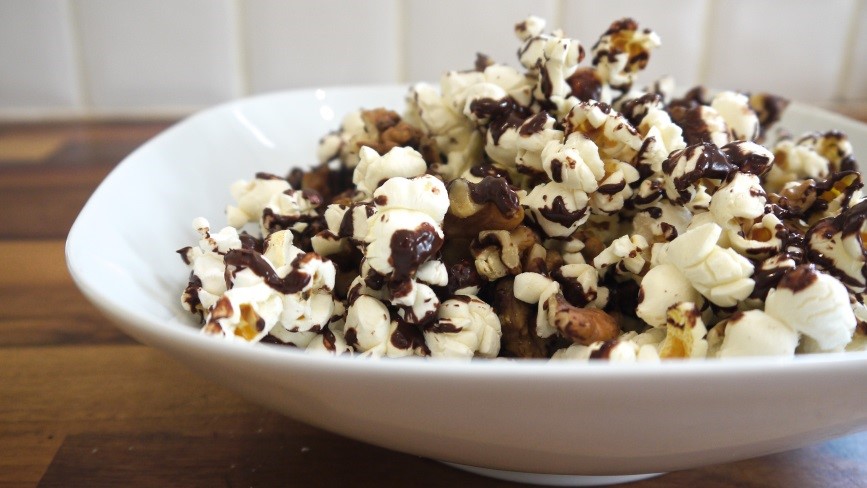 Ingredients:
3/4 cup white sugar
1/2 cup butter
1/4 cup unsweetened cocoa powder
1/4 cup corn syrup
1 teaspoon vanilla extract
8 cups popped popcorn
Directions:
Preheat oven to 250 degrees F (120 degrees C). Grease a 9x13-inch baking dish.
Bring sugar, butter, cocoa powder, and corn syrup to a gentle boil in a saucepan; cook until thickened, 1 to 2 minutes. Stir in vanilla extract. Pour popcorn into a large bowl, add cocoa mixture and stir until popcorn is well coated. Spread evenly in prepared baking dish.
Bake in the preheated oven, stirring occasionally, until mixture is set, about 30 minutes.
Remove from oven and cool to room temperature; break into clumps.
Sources: