Desserts for Your Easter Holiday
March 24, 2016, 7:06 pm
Whether entertaining a large gathering of family and friends or taking dessert to your celebration, these recipes are easy to follow and sure to please. So head to the kitchen and get out your apron!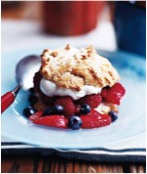 Berry Shortcakes
Ingredients
2 pounds berries (such as raspberries, blueberries, or sliced strawberries)
1/3 cup plus 2 tablespoons granulated sugar
1 cup heavy cream
8 biscuits, store-bought or made from a mix
Directions
In a large bowl, toss the berries and 1/3 cup of the sugar. Let sit for at least 15 minutes (and up to 4 hours, refrigerated).
In a medium bowl, beat the cream and the remaining 2 tablespoons of sugar until soft peaks form.
Split the biscuits in half. Spoon the berries and whipped cream on the bottom halves and sandwich with the tops.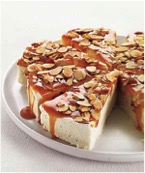 Caramel-Almond Ice Cream Torte
Ingredients
½ (4 quarts) softened vanilla ice cream
1 cup caramel sauce
½ cup toasted, sliced almonds
Directions
Press ½ gallon (4 pints) softened vanilla ice cream into a 9-inch springform pan. Freeze until slightly firm, 10 to 15 minutes.
Top with 1 cup caramel sauce (slightly warmed, if too thick) and ½ cup toasted sliced almonds. Freeze until firm, at least 1 hour and up to 2 days. To serve, remove from pan and slice.
Apricot-Coconut Cake
Ingredients
1 cup shredded sweetened coconut
¾ cup (1 ½ sticks) unsalted butter, at room temperature, plus more for the pans
3 cups all-purpose flour
2 teaspoons baking powder
½ teaspoon kosher salt
1 ½ cups granulated sugar
4 large eggs
1 teaspoon pure vanilla extract
1 ¼ cups apricot preserves
1 cup whole milk
1 cup heavy cream
¼ cup sour cream
2 tablespoons confectioners' sugar
Directions
Heat oven to 350° F. Toast the coconut on a baking sheet, tossing occasionally, until golden, 10 to 12 minutes. Butter two 8-inch round cake pans. In a large bowl, whisk together the flour, baking powder, and salt.
Using an electric mixer, beat the butter and granulated sugar until fluffy. Beat in the eggs one at a time, then the vanilla and ¾ cup of the preserves. Alternately add the flour mixture and the milk, mixing just until incorporated.
Divide the batter between the pans and bake until a toothpick inserted in the centers comes out clean, 40 to 45 minutes. Remove the cakes from the pans and let cool completely on racks.
Using an electric mixer, beat the heavy cream, sour cream, and confectioners' sugar until stiff peaks form. Spread the remaining ½ cup of preserves on top of one of the cakes; sandwich with the other. Frost with the cream mixture and press the coconut onto the sides.
Sources:
http://www.realsimple.com/food-recipes/browse-all-recipes/apricot-coconut-cake