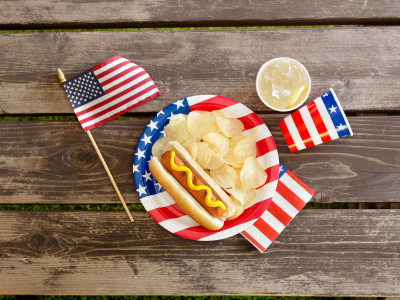 Independence
Day
BBQ
Don't be afraid to put together a really simple menu for your party. It's usually humid, hot, and muggy on the holiday so if you are hosting the party outside, stick with a low-fuss menu, like the one suggested below.
It is also a good idea to delegate some responsibilities so you are not running around sweating it out. Assign a grill master for the day—there is always someone who loves to be behind the grill cooking, flipping burgers and rolling hot dogs. You may also want to consider asking someone to keep an eye on ice and drinks—when it's hot outside there is nothing worse than running short on ice cold beverages for your party goers.
You probably know what to serve at a classic barbecue, but did you know you can arrange the food so your guests do a lot of the work? Set up a build your own burger bar, a nacho table, or an ice cream sundae station. This way, you are really only responsible for the ingredients, but not for assembling everything. And have fun with your set-up—there are so many great burger and hot dog toppings out there, feel free to be creative!
Burgers, Dogs and Nacho's: Sauerkraut, corn relish, fried onion rings, jalapeno's, meaty chili, sun-dried tomatoes.
Grilled corn on the cob: From spicy rubs to herb butters to Mexican street corn, there are so many delicious ways to dress up an ear of grilled corn. Choose a recipe you think your guests will love or set up a variety of toppings they can put on the corn themselves.
Side dishes: What would a barbecue be without potato salad? And bring a bit of healthy green to the buffet table with a spinach salad.
Desserts: Take the ice cream sundae to the next level with these brownie sundaes with banana chips. And what is more American than pie? This blueberry pie with lemon pastry will keep your patriotic theme going until the end.
Sources: