On A Side Note: Thanksgiving Side Dishes
November 13, 2015, 12:23 am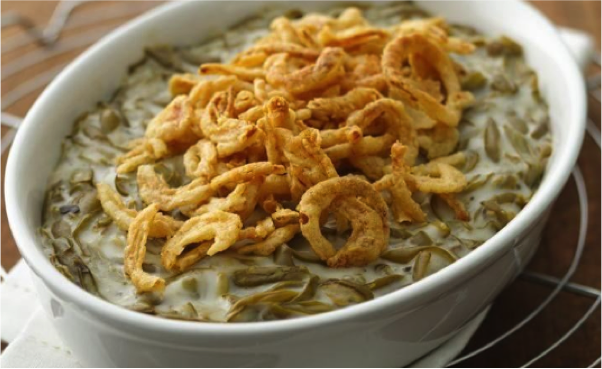 Green Bean Casserole
Ingredients
2 cans (14.5 oz each) Green Giant™ French-style green beans, drained
1 can (10 3/4 oz) condensed cream of mushroom soup
1/4 cup milk
1 can (2.8 oz) French-fried onions
Directions
Heat oven to 350°F. In 1 1/2-quart casserole or glass baking dish, mix green beans, soup and milk.
Bake 20 to 25 minutes, topping with onions during last 5 minutes of baking, until bubbly.
Sweet Potato Casserole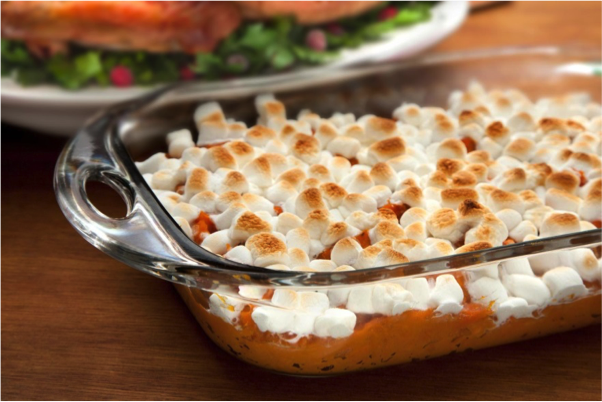 Ingredients
6 tablespoons unsalted butter (3/4 stick)
1/2 cup packed dark brown sugar
1/2 cup water
1 tablespoon kosher salt
1 teaspoon ground ginger or 1/4 cup finely chopped candied or crystallized ginger
4 pounds Garnet sweet potatoes, peeled and cut into 1-inch cubes
4 cups mini marshmallows
Directions
Heat the oven to broil and arrange a rack in the lower third.
Melt the butter in a large pot or Dutch oven with a tightfitting lid over medium-high heat until foaming. Add the brown sugar, water, salt, and ground ginger (if you're using candied or crystallized ginger, it will be added later). Cook, stirring occasionally, until the mixture comes to a boil.
Add the sweet potatoes, stir to combine, and return to a boil. Reduce the heat to medium low, cover, and simmer, stirring every few minutes, until the sweet potatoes are knife tender and starting to fall apart at the edges, about 20 to 25 minutes.
Add the candied or crystallized ginger, if using, and stir until evenly combined. Transfer the sweet potatoes and any liquid to a 13-by-9-inch baking dish and spread into an even layer.
Sprinkle the marshmallows evenly over the sweet potatoes. Broil until the marshmallows are puffed and golden brown, about 1 to 1 1/2 minutes. Place the dish on a wire rack and let cool for 10 minutes before serving.
Macaroni and Cheese Casserole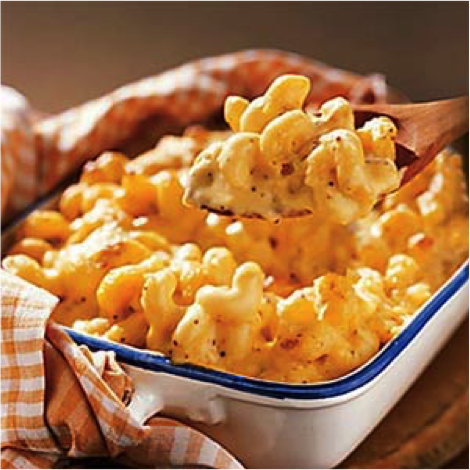 Ingredients
1 (12 ounce) package macaroni
1 egg
2 cups milk
2 tablespoons butter, melted
2 1/2 cups shredded Cheddar cheese
salt and pepper to taste
Directions
Preheat the oven to 350 degrees F (175 degrees C). Lightly grease a 2-quart baking dish.
In a large pot of salted water, lightly boil the macaroni for about 5 minutes until half-cooked.
Whisk the egg and milk together in a large cup. Add butter and cheese to the egg and milk. Stir well.
Place the lightly cooked macaroni in the prepared baking dish. Pour the egg and cheese liquid over the macaroni, sprinkle with salt and pepper, and stir well. Press the mixture evenly around the baking dish.
Bake uncovered, for 30 to 40 minutes, or until the top is brown.
Sources: