Soothing Winter Soup Recipes
January 14, 2016, 4:35 pm
Soothing Winter Soup Recipes
Feeling the winter blues? Warm up your mood and your spirits with these soothing winter soup recipes.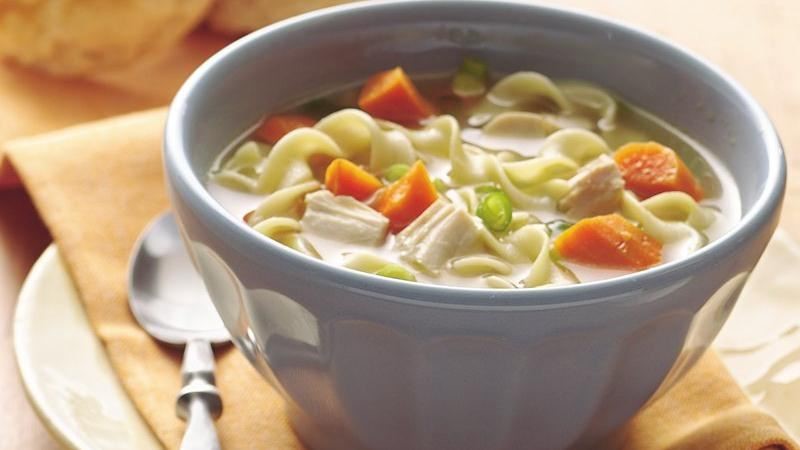 Chicken Noodle Soup
Ingredients
1 tablespoon butter
1/2 cup diced carrot
1/2 cup diced onion
1/2 cup diced celery
1 pinch salt
1/4 teaspoon fresh thyme leaves
2 tablespoons melted chicken fat
2 quarts roasted chicken broth
4 ounces uncooked wide egg noodles
2 cooked boneless chicken breast halves, cubed
1 pinch cayenne pepper (optional)
1 pinch salt and ground black pepper to taste 1 tablespoon butter
Directions
Melt butter in a large soup pot over medium heat. Stir in carrot, onion, celery, salt, and fresh thyme. Stir in chicken fat; cook and stir until the onions turn soft and translucent, 5 to 6 minutes.
Stir in roasted chicken broth and bring to a boil.
Season to taste with salt, if necessary; stir in egg noodles and cook until tender, about 5 minutes.
Stir in cooked chicken breast meat and simmer until heated through, about 5 minutes. Season with cayenne pepper, salt and black pepper to taste.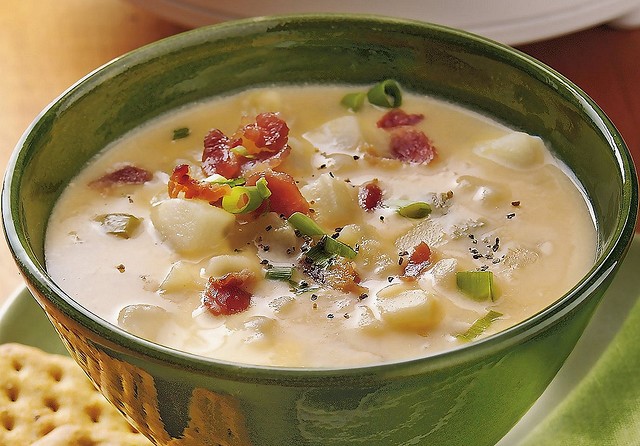 Hash Brown Potato Soup
Ingredients
1 (32 ounce) package frozen hash brown potatoes
1⁄2 cup chopped onion
water
2 tablespoons butter
6 ounces sour cream
1⁄2 lb Velveeta cheese, cut in small cubes
Salt (to taste)
Pepper (to taste)
Garlic powder (to taste)
Add milk (to consistency as desired)
4 slices bacon, cooked crisp and crumbled
Directions
Place potatoes and onion in large pan and barely cover with water.
Cook until potatoes are tender; do not drain.
Mash with potato masher to desired consistency.
Add butter, if using, sour cream, velveeta, salt & pepper, and garlic powder.
Heat until cheese is melted - do not boil.
If mixture is too thick, add milk to desired soupy consistency.
Serve with crumbled bacon on top of each serving. Great with a thick, hearty bread!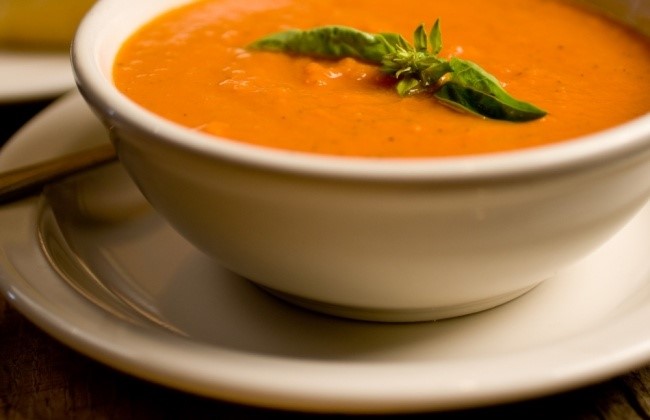 Tomato Bisque Soup
Ingredients
3 (14.5-oz.) cans good-quality diced tomatoes
2 large onions, diced (about 2 cups)
2 garlic cloves, minced
2 bay leaves
4 tablespoons tomato paste
3 tablespoons fresh brewed coffee
1 tablespoon jarred beef soup base
1 teaspoon jarred chicken soup base
2 fresh flat-leaf parsley sprigs
1 1/2 teaspoons dried thyme
1/2 cup heavy cream
2 teaspoons fresh lemon juice
1 1/2 teaspoons kosher salt
1/2 teaspoon black pepper
Directions
Note: Refrigerate in an airtight container up to 4 days, or freeze up to 8 weeks. Reheat over medium heat until soup simmers. (Do not boil.)
Sources: