Tornado Safety Tips
April 14, 2016, 2:53 pm
Warmer weather is coming our way, and with it comes the season for severe weather. Living in the Ozarks means that this severe weather includes thunderstorms, hail, and the chance of tornados. Below, we have put together a handy list of tips to keep in mind as the storms blow in.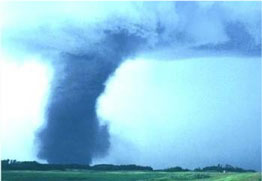 Tornado Watch: when weather conditions are favorable for tornado development.
Tornado Warning: when there has been a developing tornado detected.
Be aware of the weather reports and watch as the weather moves in for severe weather warnings and watches.
Once a warning has been issued, take cover immediately.
Get as low as you can, whether this be the basement or first level of the building you're in.
Avoid windows.
Do not spend time closing doors or windows, this only wastes your precious time to take cover.
Protect yourself from flying debris with pillows, blankets, or heavy coats. Bicycle or motorcycle helmets work well to protect your head.
If there is no shelter nearby, get into the nearest ditch, low spot or underground culvert. Lie flat, covering your head with your hands for protection.
Prepare ahead of time; have an action plan!

Source: